Nature and the creativity that nature inspires lost one of their most ingenious advocates on May 23, 2021: Former Blowing Rock resident Eric Carle passed away at the age of 91.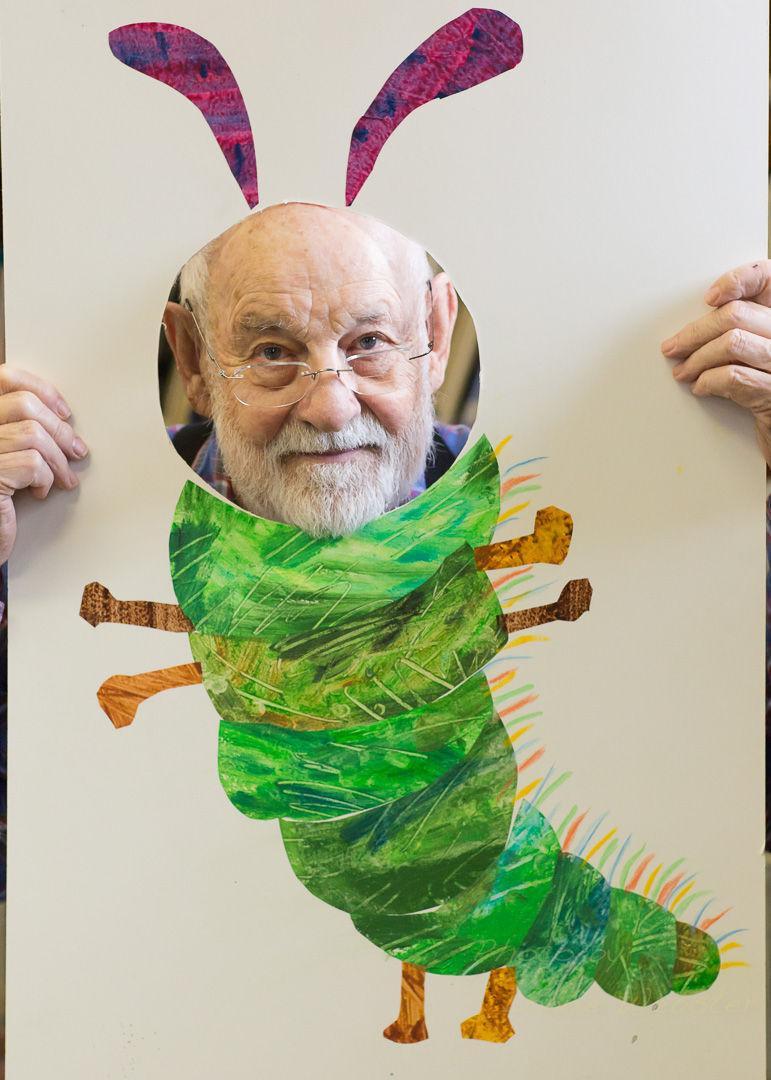 Carle was the author and illustrator of "The Very Hungry Caterpillar," a children's book first published in 1969 and subsequently translated in 66 languages, selling more than 50 million copies, according to his website. Including "Caterpillar," his more than 70 books were stories told simply, but radiantly in their illustrations that captured the hearts, minds and imaginations of young readers. His "picture books" inspired growth and hope in the minds of millions.
Carle had a home in Blowing Rock's Laurel Park neighborhood for more than a dozen years. He was often seen at the post office with his trademark black ball cap and its artful caterpillar holding court on the front. More often than not, he wore a smile on his face and extended a warm greeting with his hand, especially if he knew you.
Sarah Borders is a seasonal resident of Blowing Rock and a permanent resident of Statesville. The retired educator spoke with an air of authority about Carle, his wife and his career.
"Eric's wife, Bobbie (Barbara Morrison Carle), and I were 'forever friends' from the first grade on, growing up in Statesville. Eric was approaching 80 years old when they moved to Blowing Rock. Her sisters, Rita Morrison Wiseman and Pat Morrison McDonald, had homes in Blowing Rock. As they were retiring, she wanted to be closer to her sisters," said Sarah Borders. "So he did that for her, but he also loved everything about Blowing Rock."
From darkness to light
Coming out of darkness also means coming into light. Said Borders, "And I think that explains a lot about the beauty that was Eric Carle."
She went on to recount biographical sketches of Carle, that he was born in Syracuse, N.Y., on June 25, 1929, to German immigrants.
"One of my favorite stories of Eric is from when he was in the first grade, in Syracuse. His mother got a call from his teacher, Miss Frickey, asking her to come to school. Apparently, it was not the first time for such a call because his mother wondered what kind of trouble he had gotten into this time. But upon arriving at school, she found that the teacher had handed out crayons and Eric had been busy drawing pictures. Miss Frickey had hung Eric's art all over the walls of the classroom because it was so good and she told his mother, 'I hope you nurture this boy's talent.' Of course, to the extent possible, she did," said Borders.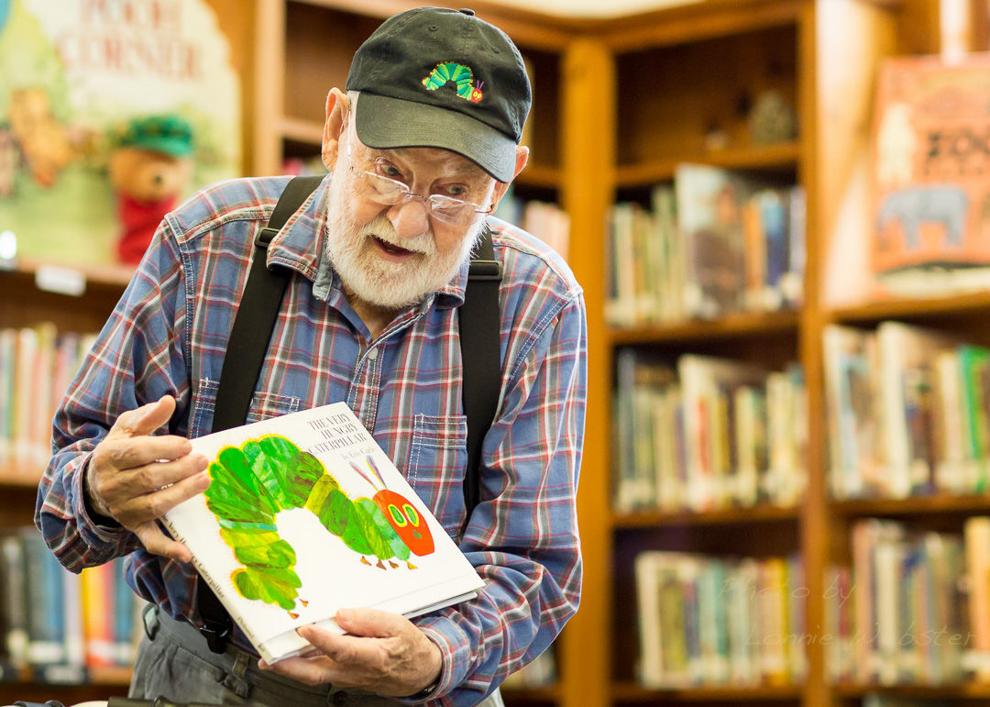 Still only 6 years old, Eric's enlightened life turned to darkness. His mother, homesick, led the family back to Stuttgart, Germany, in 1935. While Carle was being educated and eventually graduated from the State Academy of Fine Arts Stuttgart, in 1939 his father was drafted into the German army near the beginning of World War II. He was taken prisoner by Soviet forces in May 1945 when the Germans surrendered, returning home to Stuttgart in 1947.
According to interviews given by Carle to The Guardian (March 14, 2009), his father returned a fragile (less than 85 pounds), broken man, physically and psychologically.
His father away, Carle was separated from his family during the early 1040s, sent to a small town, Schwenningen, to escape the Allies' bombing of Stuttgart.
Even still, the darkness that was Hitler's war in Nazi Germany caught up with him. Like a lot of Germany's teenage boys, as well as the captured Russian soldiers being held in Germany, at age 15 Carle was conscripted by the German government to dig trenches along the Siegfried Line after the Allies' D-Day landing at Normandy on June 6, 1944. It was the worst kind of forced labor under miserable conditions. Borders said that Carle didn't talk much about those days that turned to weeks, and then turned to months.
"That was an intensely dark period of his life, but he survived and dreamed of returning to America. In 1952, he found his way to New York City," said Borders. "He said he had $40 in savings when he arrived, but pretty quickly landed a job as a graphic designer in the advertising department of The New York Times. However, he was still in his early 20s. For the second time in his life he was conscripted, drafted into the U.S. Army during the Korean War. Ironically, he got stationed in Germany because he knew the language. I recall that he was a mail clerk there."
From caterpillar to cocoon to butterfly
After his discharge from the Army, the lights began to come back on in Eric Carle's life. First, he got his old job back with The New York Times, then later he was hired as art director for an advertising agency, still in New York City.
Blowing Rock resident Rita Wiseman is Eric Carle's sister-in-law.
"In about 1967, Bill Martin Jr. was an author and had completed a children's book, but needed an illustrator," said Wiseman. "Eric had created an advertising campaign with a red lobster and Martin saw it, liked it, then proposed that Eric collaborate on his new book as illustrator."
And so, said Borders, Carle's lights began to shine a little brighter. Martin's book, "Brown Bear, Brown Bear, What Do You See?" was published by Henry Holt & Co. in 1967 and became a national bestseller.
"'Brown Bear, Brown Bear' earned him attention as an illustrator, but what really launched his career was when he started writing the stories, too," said Borders. "The first one was '1,2,3 at the Zoo,' but the second one, 'The Very Hungry Caterpillar,' became a favorite children's book all over the world."
Carle's work now includes more than six dozen books, many of them regarded as classic children's stories. There are some that follow the caterpillar theme but most of the others pull something else from nature, such as spiders, ladybugs, crickets, horses, ducks, pandas, seahorses, mice, kangaroos, elephants, roosters and more.
His illustrations alone were unique, often hand-painted tissue paper cut out in different shapes and applied to a chosen background in layers, as a collage, giving his illustrations texture, if not quite a three-dimensional quality.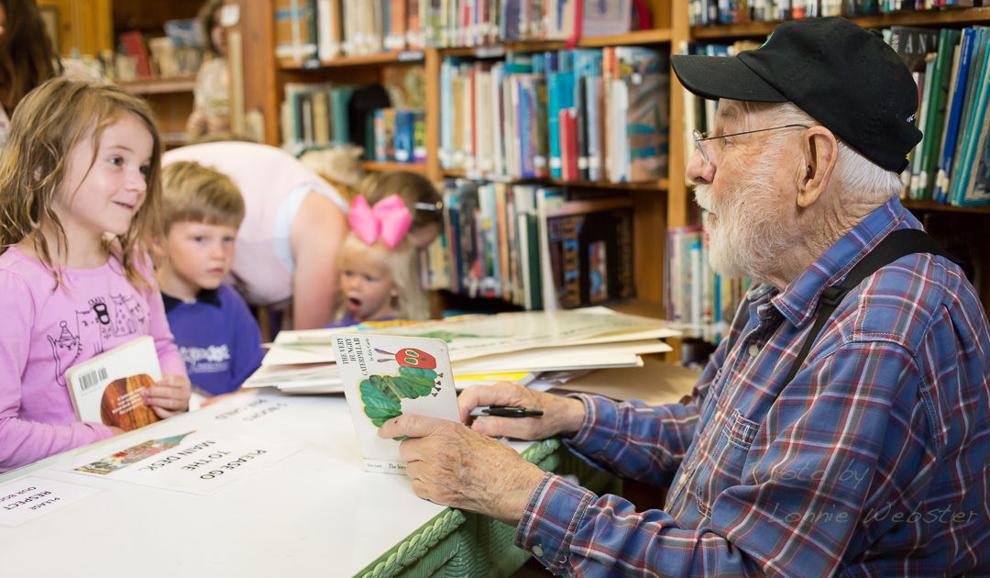 "Eric Carle was an amazing author and illustrator of children's books," said Laurie Gill, Literacy Intervention Specialist and Virtual Academy K-1 teacher at Blowing Rock School. "His love of animals — big and small, young and old, kind and grouchy — was captured again and again in beautiful words and striking colors. Children of all ages have enjoyed his stories, especially the all-time favorite, 'The Very Hungry Caterpillar,' where holes were left in fruits tasted by the caterpillar. As many others have said, 'A hole has been left in our hearts at the news of Mr. Carle's death.'"
Borders said that for more than 30 years, Eric and Bobbie Carle lived in an out-of-the-way home in Northampton, Mass. "He had a wonderful studio in the upstairs of that home and a small apartment off of it for guests," she said.
One of Carle's enduring legacies, said Borders, is The Eric Carle Museum of Picture Book Art in Amherst, Mass., which the couple founded in 2002.
"The museum is fully endowed, I understand," said Borders, "and so will be a source of creative inspiration and joy for children lucky enough to visit for years to come. Here locally, though, Eric and Bobbie also arranged for a permanent installation of his work on the second floor of the Reich College of Education building. It is an amazing asset that I hope more people discover."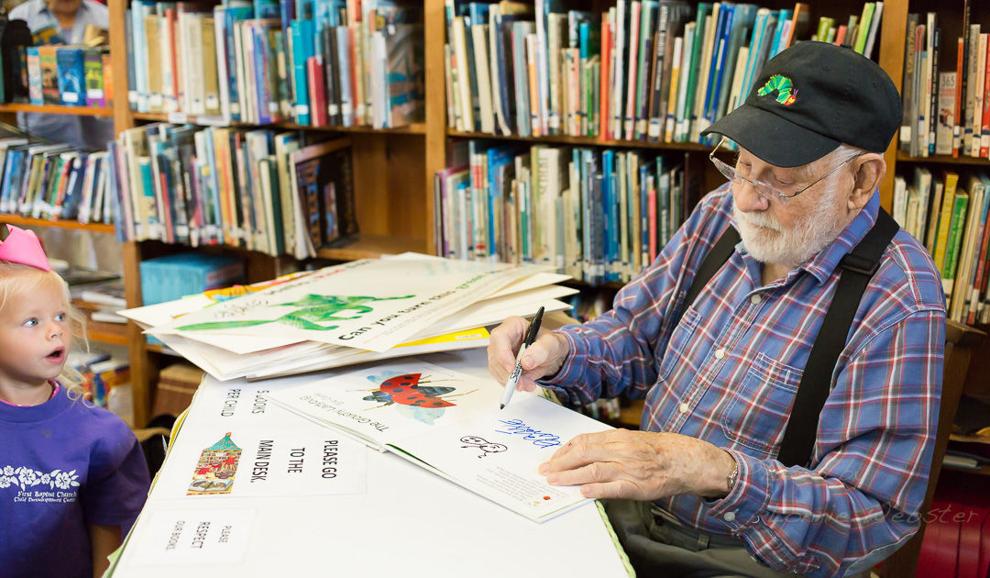 Thinking back on his life, Wiseman described a man who yearned for a degree of privacy, but who loved people: "Eric loved Blowing Rock. When he and Bobbie first moved here a little more than a dozen years ago, he was pretty much retired, approaching 80. They needed a bit of privacy, so I helped them find a property at the end of a private road in the Laurel Park neighborhood. He could also have been an architect because he loved designing the house they built. But even though he wanted a measure of privacy, he loved people."
"You might see him at the post office with his cap that had a caterpillar on it. He loved to walk around Bass Lake and if he ran into a small child, he would get down on his knees and ask them, pointing to his hat, 'Do you know what this is?' It was rare that they didn't reply, 'A caterpillar!' Eric was such a beautiful man. I don't know anyone that knew him who didn't love him," said Wiseman.
From an early life that had only a glimpse of great joy when he was handed a box of crayons, to then moving to a darker period in Hitler's Germany where he spent most of his childhood, Carle emerged as a poster boy for the indomitable human spirit.
"The Very Hungry Caterpillar" is an autobiography of sorts. In various published interviews, he spoke of being hungry while living in Germany during the war. In retrospect, that was the caterpillar stage of his life, even if not getting enough to eat. Things stabilized when he started refining his professional skills as a graphic designer for The New York Times and then art director for an advertising agency. Call it the cocoon stage. Then, suddenly, he burst into life as a beautiful butterfly, filling the minds of children around the world with hope, joy and creative inspiration.
Carle hints at this idea in a YouTube video celebrating "50 years of 'The Very Hungry Caterpillar,'" found on an Appalachian State University webpage for the Reich College of Education: "My friends and editors and publishers and I have been asking ourselves, 'Why is — so very successful?' It took me a long time, but I think it is a book of hope. Children need hope. You little, insignificant caterpillar, you can grow up and become a beautiful butterfly and fly into the world with your talent. You don't need to say, 'I won't be able to do that.' Yes, you will. I think that is the appeal of that book."
Carle's beloved Bobbie preceded him in death, in 2015. Approaching 90, he sold the Blowing Rock home in early 2019. According to an ABC News report on May 27, he died from kidney failure on May 23, surrounded by loved ones, at his summer studio in Northampton, Mass.
Selected bibliography (lessons)
The Very Hungry Caterpillar (transformational phases of life, hope)
Papa, Please Get the Moon for Me (learn about the lunar phases)
The Grouchy Ladybug (new perspectives)
From Head to Toe (an exercise book for children)
The Very Quiet Cricket (essential characteristics of insects)
The Mixed Up Chameleon (other animals' enviable traits)
The Very Lonely Firefly (searching for companionship)
The Very Busy Spider (facts about spider webs and spiders)
Do You Want to Be My Friend? (searching for companionship)
Pancakes, Pancakes! (getting the ingredients)
Selected awards
Several of Carle's individual books have, collectively, won more than 80 awards.
Honorary Degree, College of Our Lady the Elms, Chicopee, Mass., 2001
Honorary Degree, Niagara University, Niagara, N.Y., 2002
Honorary Degree, Western New England College, Springfield, Mass., 2004
Honorary Degree, Bates College, Lewiston, Maine, 2007
Honorary Degree, Appalachian State University, 2013
Honorary Degree, Smith College, Northampton, Mass., 2014
Honorary Degree, Amherst College, Amherst, Mass., 2015
Honorary Degree, Williams College, Williamstown, Mass., 2016
The Original Art Lifetime Achievement Award from the Society of Illustrators, New York, N.Y., 2010
The NEA Foundation Award for Outstanding Service to Public Education, 2007
John P. McGovern Award for Behavioral Sciences, Smithsonian Institution, 2006
Laura Ingalls Wilder Award from the Association for Library Service to Children, American Library Association, 2003
Officer's Cross of the Order of Merit of the Federal Republic of Germany, 2001
Japan Picture Book Award, presented by Mainichi Newspaper for Lifetime Achievement, 2000
Outstanding Friend of Children, Pittsburgh Children's Museum, 1999
Regina Medal, Catholic Library Association, 1999
University of Southern Mississippi Medallion from DeGrumond Collection, Hattiesburg, Miss., 1997
The 1995 David McCord Children's Literature Citation, Framingham State College + The Nobscot Reading Council of the International Reading Association, 1995
Silver Medal from the City of Milano, Italy, 1989