Darryl Vaughn didn't stop serving his country when he returned from Iraq in March 2005.
Although Veterans Day offers the nation an opportunity to express our gratitude for those who chose to serve their country at home and abroad, Vaughn works all year to serve the nearly 1,800 veterans in Ashe County, ensuring that no one is left behind after returning to civilian life.
Vaughn, Ashe County's veterans service officer and retired staff sergeant in the Army National Guard, serves as liaison between veterans, their family and any benefits they are entitled to receive from the U.S. Department of Veterans Affairs. He started in the role in 2013, and his only regret is that he wishes he started the job sooner.
With 26 years of service in the Army National Guard, he is far from lacking a working knowledge of veterans' needs in Ashe County. Vaughn was born in Indiana in 1962 where he lived for 10 years before moving to Ashe County. When he decided to join the National Guard in 1980, he enlisted in Jefferson.
"I've lived here for almost 48 years now," Vaughn said in his office on the second floor of the Ashe County Courthouse. "It is home to me."
Vaughn said he was brought up in a military home, with a father who served in the Marine Corps and five uncles who served in numerous branches of the U.S. Military.
"I was raised to be a lover of the United States and a believer in the flag and the American way," Vaughn said, adding that choosing to enlist after four years in Beaver Creek High School's ROTC program felt like his next natural step.
Vaughn was first deployed in 1990 for Operation Desert Storm, he said. He then returned to the Middle East between 2004 and 2005 for Operation Iraqi Freedom. During his tours, he served as a squad leader and assistant platoon sergeant, overseeing convoys that traveled throughout the region.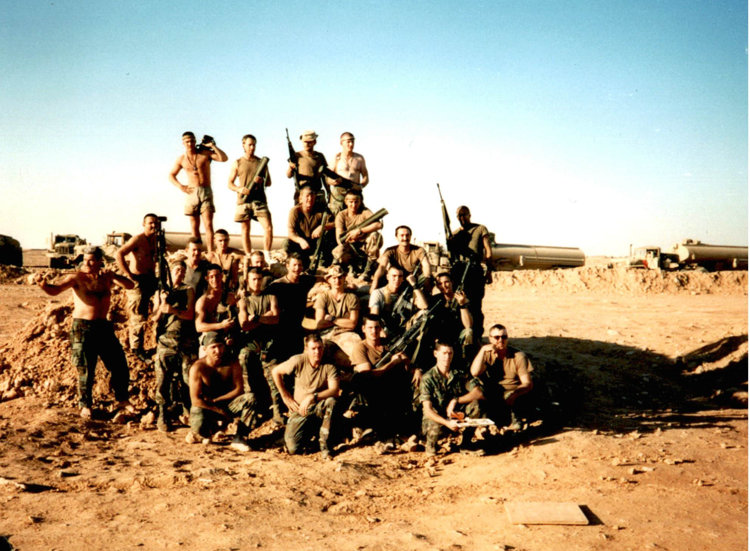 With more than two decades of time spent serving, Vaughn said having that level of comradery with his fellow servicemen ultimately influenced his decision to take the job as a veterans service officer for Ashe County.
"For the most part, it was all family," Vaugh said. "We'd been in the Guard together for so many years, it wasn't about rank. It was about the brotherhood."
Vaughn retired from the military in November 2005 and worked with Pepsi Bottling Ventures for several years before hearing about the available position for Ashe County's veteran services. Within hours of interviewing for the job, he received an offer.
"I said 'thank you,' hung up the phone and immediately threw my stuff everywhere and cheered up and down," Vaugh said.
As the county's only veterans service officer, Vaugh said he's a one-man-show, assisting with any and all kinds of needs for local veterans.
"The only bad part about my job is getting people in here, getting to know them and making friends with them, and then doing their funeral," Vaughn said. "That's the hardest part."
He added that being able to help a surviving spouse or family member, though it doesn't make up for the loss of that friend and loved one, does make the job worth it. He said he'll continue to work in his role as veterans service officer until he is either kicked out or he can't come in the office anymore.
"It is a family," Vaughn said. "You don't go through the threats, you don't go through the sickness, you don't go through I.E.D. explosions and sniper fire and RPG rounds, and you don't go through the heat exhaustion ... you don't go through all of that stuff and come out the other side still being friends and not be family."
The Veterans Services Office can be found on the second floor of the Ashe County Courthouse in Suite 2100. For more information, contact Vaughn directly at (336) 846-5575 or darrylvaughn@ashecountygov.com.