ASHE COUNTY — Throughout the week leading up to Veterans Day, Ashe County's active and retired service men and women were honored during a number of events across the county, culminating on the third floor of the Ashe County Courthouse Monday, Nov. 11.
As of 2018, nearly 1,800 veterans call Ashe County home, according to data provided by Veterans Services Office Darryl Vaughn. Of the some 27,000 residents in the county, that makes nearly 7 percent of the total population.
With no shortage of veterans in the area, Ashe County was sure to provide plenty of opportunities to demonstrate its gratitude for those men and women who chose to answer the call of duty in the various U.S. military operations spanning back to World War II, serving both at home or overseas.
"It doesn't matter if you served in combat or not," Vaughn said during the ceremony held on Veterans Day at the Ashe County Courthouse. "You wore the uniform, effectively saying to your country, 'I give you everything I have, up to and including my life, in defense of this country.'"
Dozens of retired and actively serving members of the U.S. Armed Forces attended the ceremony held at the courthouse, as well as members of the Ashe County Board of Commissioners, N.C. Sen. Deanna Ballard and a number of other community members.
U.S. Rep. Virginia Foxx and N.C. Rep. Ray Russell were invited to the ceremony but were unable to attend, Vaughn said at the start of the ceremony. Dennis Grady, Russell's campaign chairman, spoke on his behalf.
Following an invocation from Ashe County Commissioner Larry Dix, speakers shared stories of family members who have served and continue to remain as shining examples of what it means to be an American and enjoy the freedom shared by citizens of the United States.
"We can never say thank you enough," Ballard said. "Just a simple act of gratitude for everything our veterans face and gave up seems like such a small thing, but it does something that American veterans do not hear nearly as often as they should."
Ballard added that as a sister of a 19-year Navy Aviation Ordnance officer, she takes great pride in the U.S. military, and that the families of those who support veterans are often forgotten about and also deserve to be appreciated.
"We embrace the realities of your sacrifices, and we teach one another to live by your example — full of integrity, full of grit and full of selflessness," Ballard said.
Grady, speaking on behalf of Russell, shared stories of Russell's two sons-in-law who both serve, or served, in the U.S. Army.
One of his sons-in-law, Jeff Kennedy, a major in the U.S. Army Reserves, was deployed three times to the Middle East, specifically in Iraq and Afghanistan. Currently, Kennedy works for the National Security Agency near Washington, D.C., Grady said. Russell's other son-in-law was killed by an I.E.D. while deployed in Iraq, Grady said.
"I tell you our family story to honor our sons-in-law, but also to say their stories are not unique," Grady read from Russell's prepared speech. "Millions of brave men and women have done, do and will do the same for their country. Many of you have done the same for your country."
Veterans who attended the ceremony were treated to desserts and refreshments following the morning's speakers. Vaughn also reminded those in attended of the services available for veterans through the Ashe County Veterans Services Office, located on the second floor of the Ashe County Courthouse.
A number of other ceremonies were held throughout Ashe County during the week, including a barbecue lunch at the Ashe Shrine Club, breakfast and ceremony at Ashe County High School and ceremonies at Westwood Elementary, Blue Ridge Elementary, Mountain View Elementary and Ashe County Middle schools.
Vaughn noted during the ceremony at the Ashe County Courthouse that seeing all of the young students at Ashe County Schools honoring veterans throughout the week was emotional, adding that it brought a tear to his eye.
"It's such a wonderful opportunity for our students to learn because they really don't know, at their age right now, what war is all about," ACS Superintendent Phyllis Yates said during the ceremony. "They really don't understand the freedoms that they have and experience today are provided by the folks sitting in this room. We owe it all to them."
Yates added that the ceremonies are intended to teach students about the sacrifices made by veterans of the U.S. Armed Forces.
Boone Family Funeral Home, Ashe Shrine Club honor vets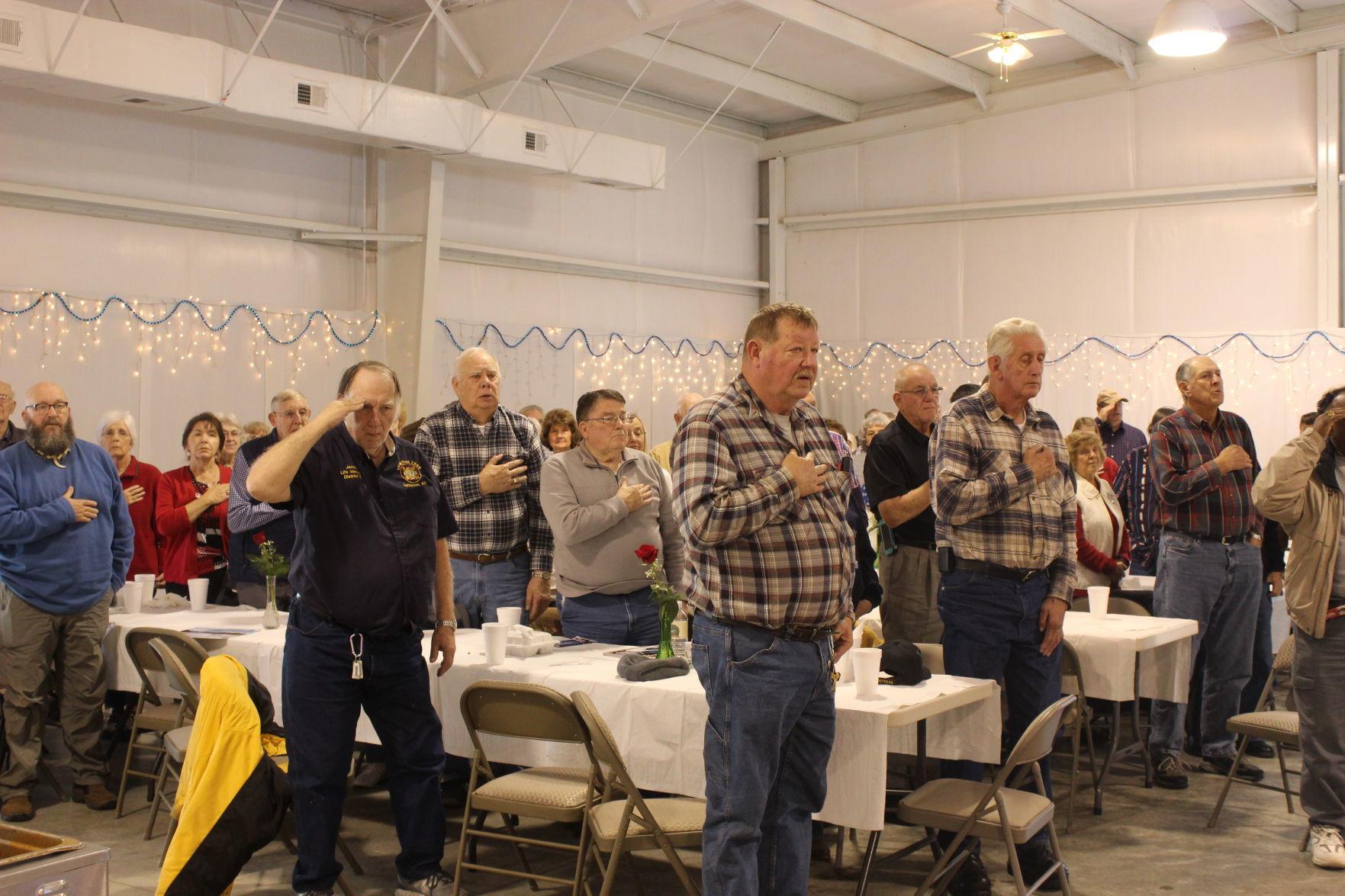 Following what has become a yearly tradition, Boone Family Funeral Home and the Ashe Shrine Club recognized hundreds of veterans for its sixth annual veterans ceremony Friday, Nov. 8, featuring songs, stories and Smoky Mountain Barbecue.
Before lunch was served, Ashe Shrine Club President John Brown asked those who had received purple hearts to stand and be recognized. Brown also asked veterans of each war and operation spanning back to World War II to stand for recognition.
Brown then presented the story of the Missing Man Table, which was set up during the ceremony to honor fallen, missing or imprisoned soldiers, followed by an invocation from the Rev. Larry Shepherd.
Following the invocation, veterans were provided barbecue, fixings and dessert from Smoky Mountain Barbecue and fellowshipped with one another before more stories and songs were shared.
Sue Reveals then took to the stage for a telling of the backstory behind Francis Scott-Key's poem, "The Star-Spangled Banner," which ultimately became the country's national anthem. After the story, Reveals performed the tune.
Various door prizes, including tools, gift cards and certificates for free oil changes, were shared during the event.
"This is something we want to do to show our respect to you," David Boone, owner of Boone Family Funeral, said to those in attendance.
Veterans convene at ACHS for morning of recognition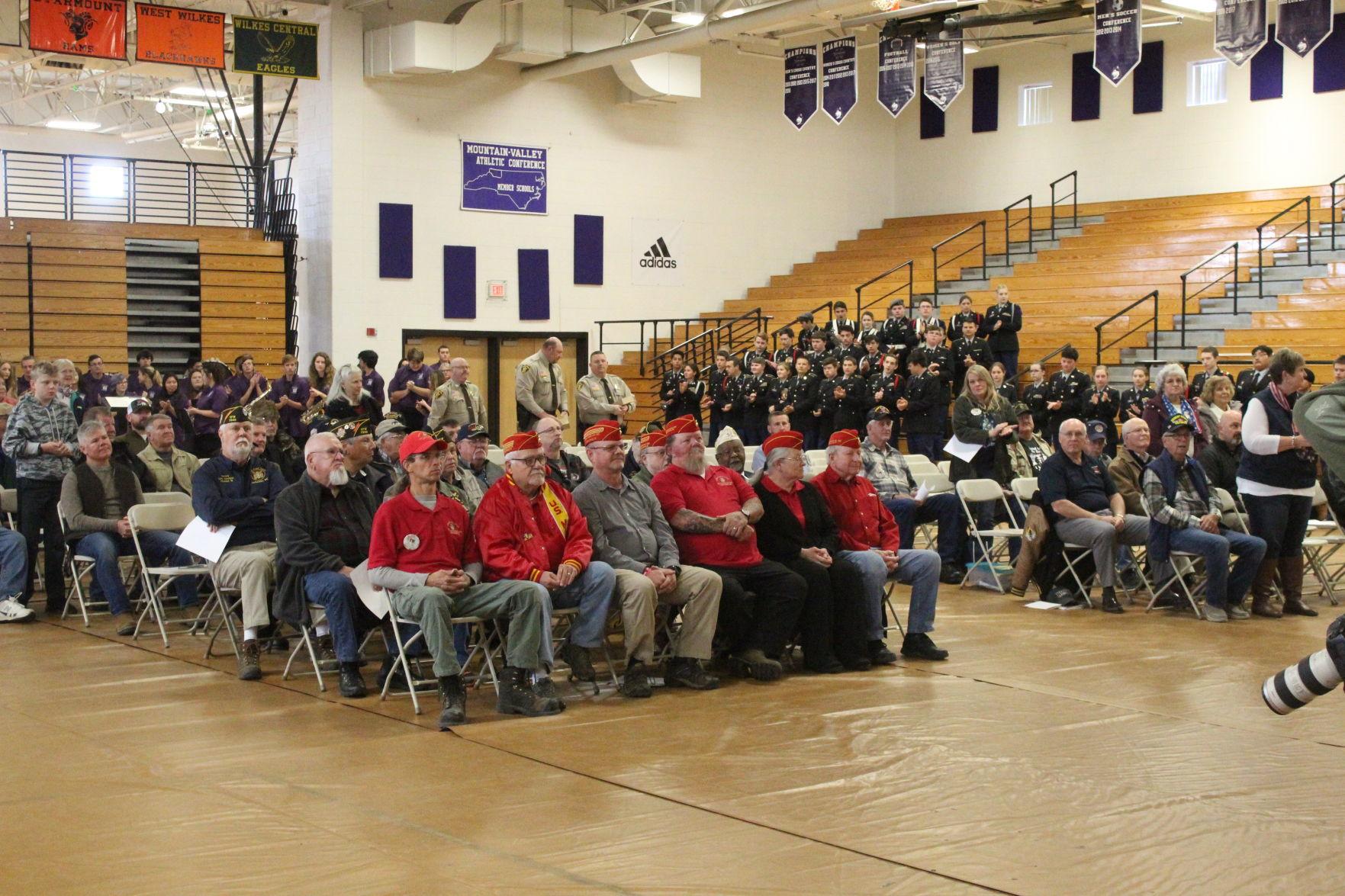 After two days of Veterans Day ceremonies at the county's elementary schools, retired and actively serving members of the U.S. Armed Forces gathered at Ashe County High School for a morning of recognition Friday, Nov. 8.
The morning included speeches from Ashe County Sheriff B. Phil Howell, Lt. Colonel David Hollis from the ACHS JROTC program and JROTC cadets, as well as a performance from the ACHS band.
"To each veteran who has offered to protect our country, you have my highest respect and gratitude," Howell said.
Students of ACHS, local elected officials and members of the Ashe County Sheriff's Office all gathered in the gym to show their recognition for veterans. Throughout Howell's speech, he paused a number of times for the crowd to say "thank you" to veterans while talking about what it means to be a veteran and the sacrifices they have made and continue to make.
Howell also described what exactly is Veterans Day, saying that the common definition of the holiday fails to include the most important attribute of any veteran: "Self-sacrifice and the willingness to give their life to protect the rights, constitution and the citizens of America," Howell said.
"Their legacy is interwoven into every community in Ashe County," Howell said.
The ceremony concluded after a performance from the award-winning ACHS band and remarks from Lt. Colonel Hollis.