Exhibit in support of Ashe Humane Society to be held at Florence Thomas Art School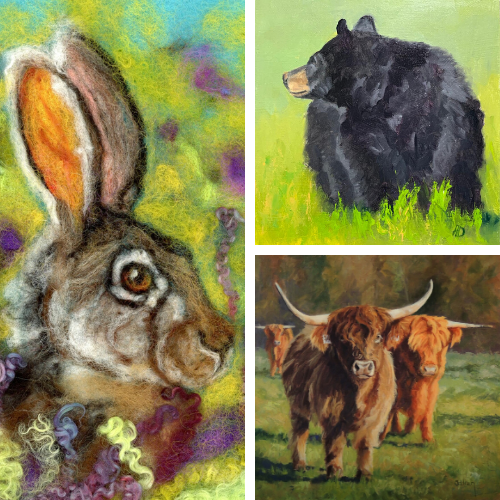 Florence Thomas Art School will feature more than 60 pieces of animal-themed art in the gallery during the "Have a Heart" exhibition, open to the public now-Feb. 29, in downtown West Jefferson.
This exhibit showcases the work of 19 artists in the High Country and supports the Ashe County Humane Society.
This exhibit is timed when many of us thinking about those we love and care about.
Ashe County Humane Society will be present during the reception and visitors can enter a raffle with the purchase of a $5 ticket to win a custom pet portrait.
The exhibit reception is open to the public with light refreshments served.
Please join Florence Thomas Art School and participating artists in support of this important community cause.
Visit the exhibit anytime during Florence Thomas Art School's gallery hours: Tues-Sat., 10 a.m.-5 p.m.
The Ashe County Humane Society works to promote the welfare of companion animals in the community through programs and strategies aimed at improving responsible pet ownership and reducing the pet population. Dedicated to the welfare of companion animals, Ashe County Humane Society is a nonprofit organization that is funded solely by donations and fundraisers and run by volunteers.
The Florence Thomas Art School was founded by the profound generosity of Florence Young Thomas. The Ashe County native was a prolific painter whose passion for art was matched by her desire to teach. She believed everyone should have the opportunity to create art, and to produce it to the best of their ability.
Established in 2008, the Art School provides instruction for artists of all ages in all media of the fine arts and heritage crafts.
The Florence Thomas Art School is a 501c3 nonprofit. The Art School does not discriminate on the basis of race, color national and ethnic origin in the administration of its educational, admission or scholarship policies and other school-administered programs.
Florence Art School is handicap accessible.
More details about workshops, exhibitions and special events can be found online at www.FlorenceArtSchool.org or by phone at (336) 846-3827.